Photo Contest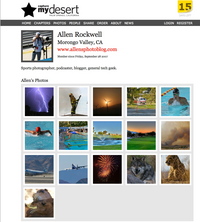 I rarely enter photo contests but I found this one for photos of the area where I live.
Do me a HUGE favor and follow this link and vote for some of my photos please.
www.capturemydesert.com/people/AllenRockwell
I'd love to win this contest and have some of my photos included in the book that will be published after the contest is over.
Thanks a lot.