Congresswoman Eleanor Holmes Norton basts DC Union Station Mamagement
The following is the text from a blog post originally posted
here
. For full text, links and images see the original blog
here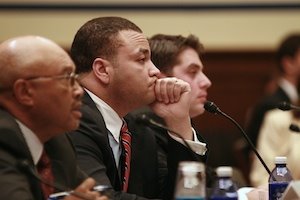 Norton Schools Union Station Management on Photo Rights, Other Issues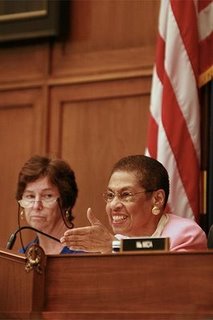 Congresswoman Eleanor Holmes Norton (D-DC) used her perch as chair of a House Transportation subcommittee today to blast management for Washington DC's Union Station over their treatment of photographers, and LightboxDC was on the scene.
The hearings were sparked in part by harassment of photographers at the historic train station, and led to an hours-long grilling of station management regarding inconsistent policies on photography and a raft of other issues.
Norton kicked off the hearing with an opening statement that read, in part:
"Reported first amendment violations and denial of access by the press and public as well as inconsistent messages by Union Station personnel are especially troubling. In June, a photographer was detained by Union Station security personnel for taking non-commercial photographs. A real time display of the confusion about access came when Channel 5, a major television outlet here was shut down by security personnel while interviewing the chief spokesperson for Amtrak, who was explaining that photography was allowed. Although management officials asserted that a ban on photography was not the policy, Channel 5, National Public Radio, tourists and a host of amateur photographers have been shut down or given inconsistent direction on photography at Union Station. The evidence of confusion and arbitrary actions by security personnel reflects the continuing absence of clarity concerning public access. Union Station appears to be a case study for the necessity of my bill, H.R. 3519, the Open Society with Security Act, to assure public safety while maintaining the highest level of free and open access to the public."
Norton also reinforced the fact that Union Station, while hosting a mix of retail and other uses, remains public property. "The overriding public interest has never been in doubt: to provide the public access to a federally owned facility," Norton stated.
Incredibly, representatives for the entities that manage Union Station offered prepared statements that sidestepped, entirely, the very issue that helped initiate today's hearing.
Photographer Erin McCann came prepared to remind them of her long and frustrating chronology of attempts to communicate with them about their policies. "Often, my calls and e-mails have resulted in being given conflicting information, sometimes minutes apart by people in the same office," McCann testified.
Station managers said they're working to fix the problem, but Norton branded management's approach "pathetic" and demanded immediate removal of their signs claiming Union Station is private property and that photography can be banned at their discretion. Norton also mandated that management submit, within thirty days, a new draft policy regarding the rights of photographers and other public access rights within Union Station.
Tom Fitzgerald of DC's FOX5 covered today's hearing. His report, along with other videos and links, is here. Washington Post coverage here.