Video Podcasts Have A New Home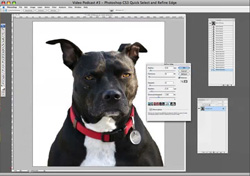 You have probably noticed that I've recently produced a few video podcasts. I think the video podcasts are very useful for tutoruals and product reviews where simply speaking about the item and showing still photos is just not enough.
I also realize that there are many of you that listen to my podcasts while in the car, at work or when at the gym, etc and you can't really watch the screen of your iPod while doing these activities.
So, I've created a seperate feed for the video podcasts that you can subscribe to (or not) and watch them when you are at your computer, while traveling (not driving), while soaking in the tub ... whatever.
The new video podcast feed is at http://feeds.feedburner.com/videodigitalphotopodcast