Photoshop CS3 Release Date
Update: After carefully reading the press release from Adobe again, the actual shipping date of CS3 apears to be a little vague. They say "...will be formally introduced on March 27, 2007". My guess is that "formally introduced" may not be the exact same thing as "shipping". Perhaps my April 24th prediction is actually closer to the real date. We'll see pretty soon.

Photoshop CS3 will be available on March 27th ... about a full month earlier than I anticipated.
Photoshop will be released in two version; Photoshop CS3 and Photoshop CS3 Extended.
From Adobe.com:
Photoshop CS3 and Photoshop CS3 Extended are at the heart of the Photoshop family. The Photoshop family of products is the ultimate playground for bringing out the best in your digital images and transforming them into anything you can imagine. Other products in the family include Photoshop Lightroom™, Photoshop Elements, and Photoshop Album Starter Edition software.

Photoshop CS3
Adobe Photoshop CS3 includes all the features you love in Photoshop CS2, plus many innovative new ones. Photoshop CS3 accelerates your path from imagination to imagery. Ideal for photographers and designers, the professional standard delivers new features such as automatic layer alignment and blending that enable advanced compositing. Live filters boost the comprehensive, nondestructive editing toolset for increased flexibility. And a streamlined interface and new, timesaving tools make your work flow faster.
Ideal for:
* Photographers
* Graphic designers
* Web designers
* Print service providers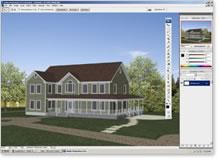 Photoshop CS3 Extended
New to the Photoshop family, Adobe Photoshop CS3 Extended delivers everything in Photoshop CS3 and more. Render and incorporate 3D images into your 2D composites. Stop time with easy editing of motion graphics on video layers. And probe your images with measurement, analysis, and visualization tools.
Ideal for:
* Film, video, and multimedia professionals
* Graphic and web designers using 3D and motion
* Manufacturing professionals
* Medical professionals
* Architects and engineers (AEC professionals)
* Scientific researchers
Prices have not yet been released but I would expect that in a few days.
Technorati Tags: Digital Photography, Allen Rockwell, CS3, Adobe, Creative Suite 3