Alternative to a shooting tent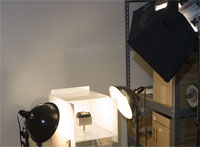 A few days ago I built something for my shop that I think will come in very handy for photographing small objects. I got the idea from looking at photo tents (or photo domes) on the B&H; photo site. And I know I could have just bought a photo tent but I like to make things, so I did.
This crazy thing is made out of white acrylic (plexiglass) that is semi trasparent. The two vertical sides are straight but the floor and back piece are the same piece of material and it's bent at a 6" radius at the back so there is no obvious corner or seam at the back.
As you can see from the photo (click it to see a bigger version) the box is lit from both sides and there is also a ling in the back that you cannot really see that lights up the back the bottom. and there is a softbox at the font pointing in at the object being photographed.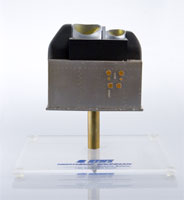 I still need to do more experiments with different lighting schemes, but the first test photo does show that it works. The idea is that the white actylic difuses the light to the point that the object is lit from almost every angle possible. Also the fact that the bottom and back are lit there are virtaully no shadows at all. This is still an experiment, but so far I'm pretty happy with it.