Add a little drama with a simple lens change
This is a simple tip, but sometimes when we are out shooting we forget the simplest things. sometimes you can change a photo dramaticly just by changing your lens and/or angle.
In the two photos below I captrued a very beautiful Super Decathlon airplane at the 2006 AOPA Convention in Palm Springs California.
The first photo is a very nice shot of the plane taken with my Canon 24-70mm f/2.8 L lens, this lens takes great photos and there is nothing at all wrong with the photo ... however it really doesn't grab me and pull me in.
In the second photo I used my Canon 15mm Fisheye lens and got a little lower. I think this shot is far better than the first one. The second shot feels more dramatic, and includes more of the surrondings (like the palm trees).
I find that Fisheye lenses are handy for aircraft and automobile photography. Try it sometime. If you don't own a Fisheye, rent one for a day and see if you like it.
Canon 24-70mm f2.8 L (click image to enlarge)

Canon 15mm f/2.8 Fisheye (click image to enlarge)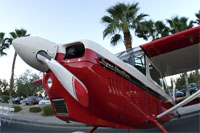 Technorati Tags: Digital Photography, Allen Rockwell,