Apple iPhone Real Soon?
I know this has nothing at all to do with digital photography ... but I've been waiting for an iPhone, so I'm very excited.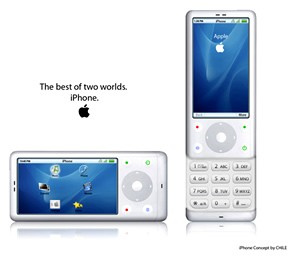 Gizmodo claims that the iPhone will be announced on Monday.
Gizmodo Knows: iPhone Will Be Announced On Monday
I guarantee it. It isn't what I expected at all. And I've already said too much. –Brian Lam
No further information is provided, but there is a clear implication that the iPhone is coming this Monday (December 18th).
- $599 for 4GB
- $649 for 8GB
- Wider than the iPod nano
- Thinner than the iPod Video
- Made of Metal
- Multiple colors, but at least including black, white, and silver
- Cingular Wireless is likely carrier in the U.S.
- Update: Clarification: Runkle actually claimed: "full screen LCD; 3.5 inch (28x21)" and approximately 4/10ths of an inch thick. Also incorporates a Virtual Click wheel.
The proposed prices of the iPhone are much higher than the only previous rumor which pointed to $249 and $449 4GB and 8GB models. No details whether these simply represent retail prices that may drop considerably with a service plan commitment.